Hunger Action Month
Did you know that half a million individuals are food insecure right here in Northern Illinois? Since the beginning of the pandemic, many of them are experiencing hunger for the first time.
Aurora Area Interfaith Food Pantry, a partner agency of Northern Illinois Food Bank and Feeding America, encourages you to get involved in local hunger relief efforts this Hunger Action Month.
In 2020, the Aurora Area Interfaith Food Pantry provided nutritious food to 284,000 individuals. The reason the pantry was able to help every single person seeking assistance was because of an outpouring of donations from the community.
Additionally, the backbone of the pantry is its fantastic group of volunteers, working Monday through Saturday to help stock shelves, assist in food distribution, and do data entry. We are always in need of more volunteers! Whether you can help a few days or a few hours a week, there is no cause more worthy than helping families struggling with lack of food. To learn more, don't hesitate to get in touch with Marcy Robles, Volunteer Coordinator, at (630) 692-3056, or visit aurorafoodpantry.org/volunteer.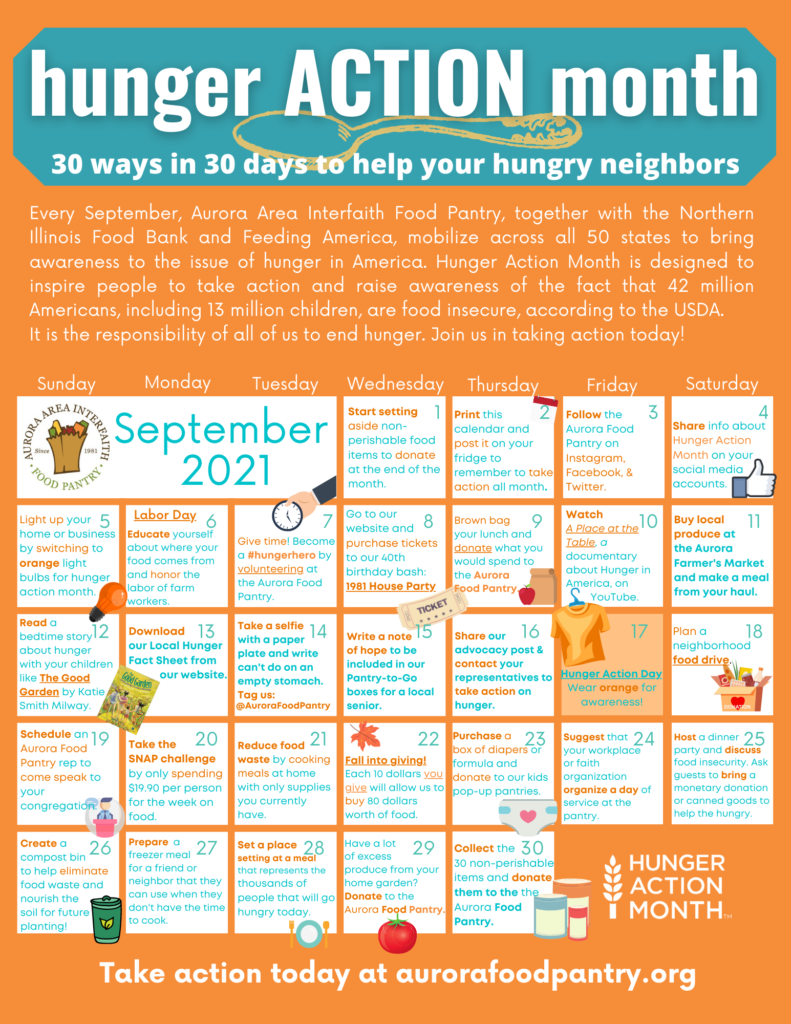 Download the Hunger Action Month 30 Ways in 30 Days Calendar – a road map to awareness with daily acts that can contribute to the at-home fight against hunger and food insecurity.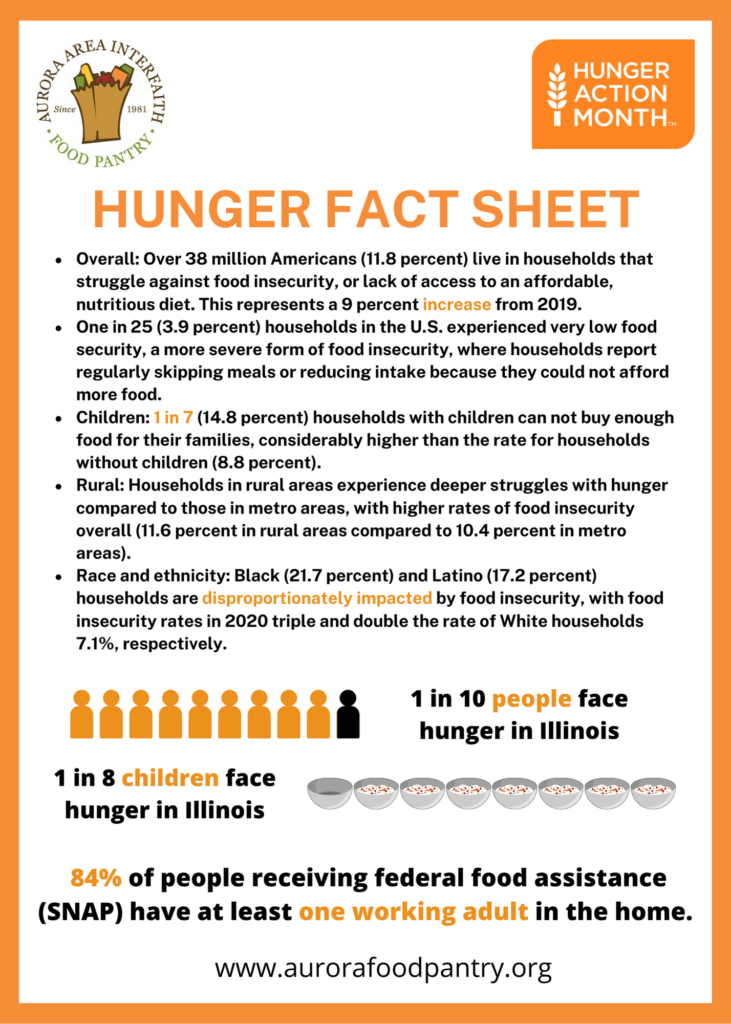 Download the Hunger Fact Sheet – a snapshot of hunger and poverty in the United States and Illinois.
Here are some other ways to show your support and raise awareness of the realities of hunger:
Wear orange on Friday, September 17, for Hunger Action Day to raise awareness about hunger in our community.

Join the online campaign by sharing your Hunger Action Day photos using #HungerAction #EveryActionCounts and tagging the Aurora Area Interfaith Food Pantry @aurorafoodpantry.
Food drives are a great way to get your family and friends involved in hunger relief.
Launch a Facebook fundraiser for the food pantry.
Invite your family, friends, and co-workers to donate to the Aurora Food Pantry.
Together, we can make a difference in the lives of those who struggle with life's simplest, most basic human need: food.