Meet Staff Member Jesus Galvan
May 29, 2019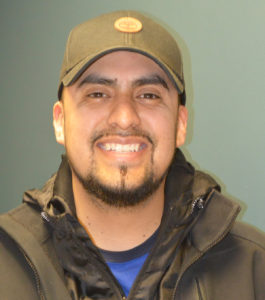 Last year, the Aurora Food Pantry rescued 1.7 million pounds of food from local grocery stores and food manufacturers. Driver and Warehouse Assistant Jesus Galvan was responsible for collecting much of that food.
"I drive to about 48 scheduled pick-ups each week," Jesus said. "Grocery stores and food manufacturers give us everything from dry goods to fresh meats, produce and baked goods, and the amount of food they give us has gone up each year."
Jesus joined Aurora Food Pantry in 2015, several months after his brother Eddie was hired as the Food Distribution Manager. Jesus and Eddie had learned of the Aurora Food Pantry as one-time volunteers. "I liked the people and I liked doing something good for my community," Jesus said, "so we asked them to let us know when there was a job opening."
The two brothers had also worked together previously.  "Eddie has always been the boss when I've worked with him," Jesus joked about his older sibling, "so I'm used to that."
Together, the two brothers make an unbeatable team, helping to meet the food requirements of more than 19,000 people annually.
Outside of work, Jesus enjoys attending his ten-year-old son's soccer games, a sport that he himself played well into his 20s. "I also spend a lot of time with my son on a volleyball team," Jesus said, "and he is even getting me into fishing a bit."
Jesus is glad he accepted the position at the Aurora Food Pantry four years ago because he has been able to provide a service to his community and further a good cause. "It's something that I'm proud of doing," he said. "I know that I'm helping people."