Mural in the Market
January 27, 2020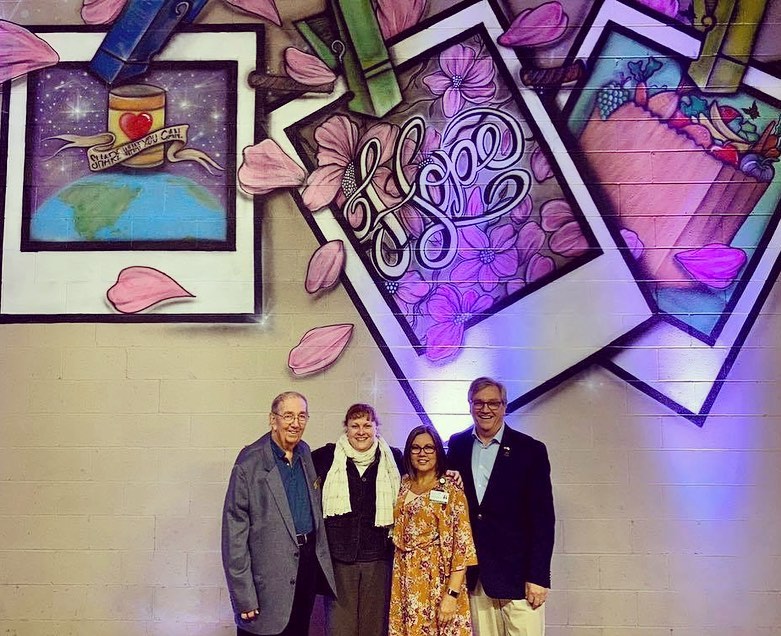 A former client of the Aurora Area Interfaith Food Pantry has created something special to brighten up the facility he used to visit.
Aurora artist Fisk Garcia, who once needed the services of the pantry, wanted to do something to give back to the facility, and so he painted a mural on the cinder block walls of its distribution room.
The pantry's Communications and Grant Manager Maureen McGuire said the mural was just the answer staff was looking for after talking to other muralists and finding that the cost of such a project would be too expensive.
"We've been looking to have a mural back in the distribution room for some time in order to enhance what is a dull, gray space which we think can be grim, and when we talked to other muralists, we found out the cost was too much," McGuire said. "We spoke with Mr. Garcia about it and he was happy to do it."
McGuire said the artist worked on the project "for about six to eight weeks" and that he would often come in late at night or on weekends.
"This was something we talked about doing about four to five months back as we've wanted to have a mural for a long time," she said. "We're grateful he was able to do it."
The mural itself is composed of five separate scenes and stretches across about 30 feet of wall space. According to Garcia, 30, of Aurora, each scene depicts a part of the food pantry experience as well as expressing a philosophy of life and a look to the future.
"The first one on the left is a realistic art piece of this place where things all begin," Garcia said. "The next mural with the word 'share' invites people to share what they can and give food in cans which can last a long time. The third mural is about hope, for without it, you have no dreams."
The fourth scene contains a bag of food someone might have received from the food pantry while the last, Garcia said, is about a better future.
"We have a little girl pushing a carriage and the idea is that kids can come here and ask for help and eventually will have a better future," he said.
Former executive development associate at the pantry Ellie Esparza spoke to guests at the unveiling of the mural on Wednesday and said the final mural is amazing.
"We reached out to a lot of people and this mural is not what I envisioned – it's even better," she said.
Aurora Ald. Edward Bugg, 9th Ward, was among the many guests attending Wednesday and said the mural "definitely enhances the food pantry."
"This will brighten the day of many people who we know don't always have it easy," he said. "Anything that brightens or makes this place more endearing is fantastic and for people who have never been here, this will totally blow them away."
Yahaida Torres of Montgomery said she was at the unveiling representing BMO Harris Bank, which has offered financial education seminars at the pantry for some time.
"I love this mural and love that a younger person provides the inspiration for those coming in – it's nice to see, and makes this more lifelike and less institutional," she said. "Now it's more like a neighborhood grocery."
Naperville resident Monica Patankar, the reigning Miss Illinois, was at the unveiling and agreed the mural "adds value and community" and likened it to what many experience at local grocery chains.
"This mural adds a neighborhood feel and makes people feel warm and welcome," she said. "I've been to several events at this food pantry and I think it helps that a local artist was so inspired. He wanted to give back and share his talent."
David Sharos is a freelance reporter for The Beacon-News.