Stories of Impact
The Tovar's: A Story of Appreciation
We are the Tovar's and this is our story about life changes that made us realize the importance of resources like the Aurora Area Interfaith Food Pantry. 
---
The Spirit of Giving: Tiffany & Family
My name is Tiffany and I wanted to tell you how Aurora Food Pantry has helped my family and so many others. 
I've been coming to the pantry for about four years. I have three great kids: Anthony is 17, Christian is 13 and Ivy just turned 10. I work, but groceries are getting expensive – especially with two teenage boys! Even still, I only come for food when I absolutely need it.
I also volunteer at the pantry because I want to pay back what you have given me. Anthony did his high school service hours at the pantry, too. It's so important to give back.
Every is so friendly when we come to shop. The volunteers know you by name and they make my kids feel special. I really like that it's like a grocery store because it means you can get what you need and you have a choice.
We're so lucky to have a place like Aurora Food Pantry – you don't feel so bad that you don't have as much as other people. When I volunteer, I see how many families are helped and how much it is appreciated. This food really helps a lot of people. Thank you!
Learn how you can give back by becoming a volunteer.
---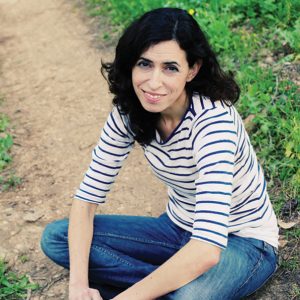 From Desperation to Dignity: Nadia's Story
Nadia, like so many of our clients, never thought she would be hungry. Food pantries were for "other people." She had a good job, a college education, house, and family – with two sons enrolled in college.
However within the space of a month, Nadia went through a divorce and lost her job due to corporate downsizing. She cut expenses wherever possible, like walking instead of driving to save on gas. Despite this it soon became difficult to pay bills. Even after dipping into her savings she couldn't make ends meet. "I felt desperate."
Nadia knew about Aurora Area Interfaith Food Pantry through her church. Having no other options, she decided to give it a try. "Any discomfort I felt quickly went away. The food we received allowed me to pay other bills, lifting a tremendous weight off my mind."
Nadia and her family received food one a week for about a year. "Thankfully, I found a great job where I still work today. One of my boys is in law school and the other is working. Because of the pantry we were able to keep our home and our dignity…I am so grateful. Thank you!"
Donate today to help families like Nadia's.
---
Pay It Forward Pie: Robert's Story
Robert was a volunteer and donor at Aurora Area Interfaith Food Pantry. Following a stoke and a long rehabilitation that kept him from working, Robert began to visit the Pantry to supplement his food supply.
This is where most of these stories end. But for Robert, it was just the beginning. Despite his own health issues, Robert looked after his struggling elderly neighbors, Victor and Maria, and their adult son with physical disabilities.
Robert took the food he received from Aurora Food Pantry to put together a home cooked feast, complete with a beef roast, baked chicken, vegetables, and a sweet surprise: a made-from-scratch blueberry pie, baked with the fresh blueberries Robert received at Aurora Food Pantry.
Robert said when he brought the meal over, "Victor cried real tears."
Get Robert's blueberry pie recipe here.
---
Health & Happiness: Maria and Joshua's Story
Food, electricity, medicine – pick one.
Clients like Maria are all too often forced to make these impossible decisions. Maria began coming to Aurora Food Pantry to help feed her family. The food she received freed up money for bills and other necessities. But in 2011, life changed when her son Joshua was diagnosed with ALS (also known as Lou Gehrig's disease). The average age for an ALS diagnosis is 55; Joshua was 15.
The food the family received at the pantry mattered even more now, as Maria transitioned to being Joshua's full time care giver and the medical bills grew beyond what her husband's full-time job could support. "Thankfully, we don't have to choose between paying rent and buying groceries because we have the Aurora Food Pantry to turn to for help."
Today, Joshua is 21 and, despite having good days and bad days with his disease, he is a cheerful and positive young man, with an amazing talent for mechanics. When shopping at the pantry alongside his mom, Joshua picks out soft foods like oatmeal, enriched noodles, and bread that are easier for him to eat.
"The food pantry has been absolutely critical to helping me stay as healthy as I can," Joshua says. "To everyone who makes the food pantry possible, thank you so much. I can't even express how much it helps me and my family out."
Maria adds, "We have a roof over our head, heat to keep us warm, clothes on our backs – and thanks to the food pantry – food to fill our stomachs. We have everything we need and each other. I couldn't ask for much more than that."
Find out what food items are most in need at the pantry.
---
Spartan Service
The benefits of volunteering are well-known: you have a positive impact on your community while engaging with new people. Volunteering also promotes teamwork and communication, two skills that are demonstrated by the student-athletes at Aurora University.
In January 2014, just two months after moving into our current building, the AU Athletic Department began coordinating their many sports teams to volunteer at the pantry. Each of our three weekly distributions requires 35 volunteers to help stock and distribute food, so the need for volunteers is great.
AU student-athletes assist with all aspects of distribution, including helping clients, stocking, cleaning, and working in the parking lot. Their hard work and dedication has added up to thousands of volunteer hours since 2014. We are so grateful to these young adults who have made such an amazing impact on our clients and community. Thank you – and go Spartans!
Learn more about how your "team" can get involved
---
Chris and Irma: When a Job Isn't Enough
Many of the people who come to the Pantry for food are employed, but it still may not be enough to make ends meet. Irma is one of those people.
"After moving to Aurora, I was fortunate to find the Aurora Interfaith Food Pantry," Irma said. "Each week when I visit, I thank them for supplying food to my home. We are nothing but grateful. The stress on my heart is gone. It is such a blessing."
After coming to the Pantry with his mother, Irma's son, Chris, who has cerebral palsy, began volunteering twice a week to give back for the help they received. And he continues to volunteer to this day.
Irma and Chris' story is not unusual. Throughout our community, hunger affects people of all ages and all walks of life.