Experiences that Changed Her Life
April 21, 2022
Living just two miles away, Marie Wienckowski, found herself driving past the Aurora Food Pantry on multiple occasions, wondering why people were carrying banana boxes out to their cars. One day, to feed her curiosity, she stopped in to check it out. After her visit, she knew she wanted to play a small role at the pantry by becoming a volunteer. However, to the pantry staff, other volunteers and families being served, Marie does much more than playing a small role! 5 years later, she's still a dependable, dedicated and invaluable volunteer.
"I have learned a lot of valuable lessons here. The pantry has taught me not to take things for granted, and to have a new appreciation," said Marie, "Hunger can affect every part of our social system and society."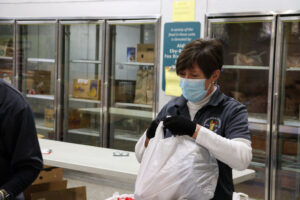 Hunger has many detrimental health effects, including Type 2 diabetes, high blood pressure and heart disease. Struggling to put food on the table can lead to household psychological and behavioral health issues. This in turn influences children and can lead to serious developmental impairments, repeating a grade in school and social problems.
The pantry feeds 526 children every week throughout the year. During the summer months, the pantry serves even more children through the Food for Thought program. "Seeing all the little kids and knowing when they are not in school, that they can come to the pantry and get food is very motivating," said Marie.
The pantry would struggle to stay open without volunteers, and certainly wouldn't be able to serve as many neighbors.  The generous support from our community is what makes it possible to feed every child and adult who walks through the pantry doors. It is volunteers like Marie who care deeply about helping our community and neighbors!
"Marie is amazing. She splits her time so well helping here at the pantry, with special events, all while helping her own family," said Marcy Robles, Volunteer Coordinator, "She is a volunteer who is always going the extra mile."
Thank you, Marie, for your continued support of Aurora Area Interfaith Food Pantry!
________
If you or your organization would like to become a volunteer, please visit aurorafoodpantry.org/new-volunteer/ or email, Marcy Robles.