Pantry To-Go!

Pantry To-Go offers shelf-stable food boxes to homebound clients.  This service is available every Monday, excluding holidays.

Learn More

Need Food?

Food distribution occurs every Tuesday & Thursday, from 9:00 a.m. to 12:00 p.m.  You may visit the Pantry once each week.  If you need to register, please click here!

Register Now

Host a Food & Fund!

The Aurora Food Pantry is looking for individuals, churches, organizations and businesses to host Food & Fund Drives!

Host a Food Drive
There is No Greater Good Than Feeding Those in Need.
This past year, the Aurora Food Pantry saw the need for food assistance skyrocket due to the pandemic; through the tremendous support of the community, we have fed approximately 282,500 individuals since March of 2020 and distributed enough food for 2.9 million meals.
Learn More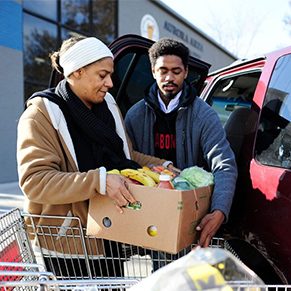 Distribution Hours
Those in need of food may visit the Pantry one time each week.
Tuesday:

9:00am - 12:00pm DISTRIBUTION

Thursday:

9:00am - 12:00pm DISTRIBUTION
First Time Visiting?
Self-Registration is now available for new shoppers!
How to register