Volunteer of the Year – Tonya Beach
December 22, 2021
The Aurora Area Interfaith Food Pantry (AAIFP) is pleased to announce the first inaugural Volunteer of the Year award, dedicated to long-time volunteer Claire Perez.
We would like to congratulate Tonya Beach on being selected as this year's award recipient. Beach has been an Aurora area community member most of her life and  started volunteering at AAIFP in June, 2020. "After retiring, I wanted to do something meaningful," said Beach. "Volunteering has made me a better person. You don't always have to be paid to do what you know is right."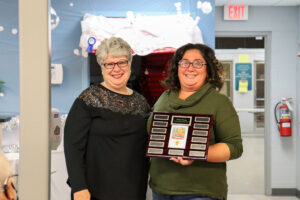 The AAIFP has become a second family for Beach and has given her a new purpose. A typical day at the food pantry involves a lot of hustle and bustle, she stated. Beach manages the produce section where she helps bag and distribute the items to our neighbors.
"We all have a focus on what we do, and we all do it well," said Beach. "Everyone has a heart for this [volunteering at the food pantry]. Some people just have to be here once and then they keep coming back!"
Beach arrives early on distribution days to get her team set up for the day and when she is here, she is always a
ray of sunshine. "Tonya is thoughtful, considerate and an all-around awesome person," said Eddie Galvan, AAIFP Program Director. "She is a very hard worker who has dedicated many hours to the pantry and those we serve."
When asked what keeps her motivated, "Knowing in your heart there is a need for the food pantry. You do not want anyone to go hungry and everyone should have food on the table," said Beach. For her, coming to the food pantry every day is her pleasure.
Thank you, Tonya, for your commitment to the Aurora Area Interfaith Food Pantry's mission, and congratulations on winning the Volunteer of the Year award! Volunteers are the backbone of the pantry. There's simply no way the AAIFP could operate without them.
———
If you or your organization would like to become a volunteer, please visit aurorafoodpantry.org/volunteer or email, Marcy Robles.