In the Spotlight: July 2023
July 14, 2023
Jim retired years ago, but he knew he had more time and energy to give. He saw an article in the newspaper about the need for volunteers at the Aurora Food Pantry and has been giving his time stocking shelves and collecting food for four years now. Jim says, "Volunteering is rewarding. It's for a greater purpose. Over the past couple of months, we have been restocking a lot more, so it's apparent people need more food."
Earlier this mon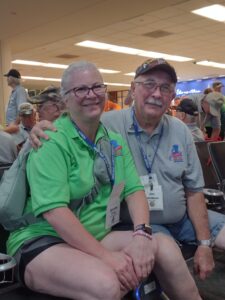 th, Jim flew with the Honor Flight. Jim served in the Vietnam War. Honor Flight's mission is to honor, thank, and inspire by building awareness and appreciation of the debt of gratitude America owes its veterans. The life-changing Day of Honor in Washington, D.C., brings veterans to the memorials built in tribute to the service of our veterans from WWII, the Korean War, and the Vietnam War. The trip is provided at no cost to the veterans and is intended as a heartfelt thank you for their service and sacrifice from a grateful nation. 115 veterans were on Jim's flight. Right before the flight, Jim said, "I lost 12 guys in Vietnam. I want to go see their names on the wall." 58,000 names are on the Vietnam Wall. For many veterans who tour the wall, they think about the young men they knew who never made it back from the war.
Jim is married to his wife, Martha. He has three children and five grandchildren. Jim is also an avid model railroader. He has more than 2,000 cars and engines. One night a week, he invites friends, family, and neighbors over for what they call "Train Night." 
As the late Muhammad Ali once said, "Service to others is the rent you pay for your room here on Earth." Jim is a great example of what it looks like to use your individual gifts to serve your community! Thank you, Jim, for your service to our country and your community!