New Staff Spotlight: Jessie Pedraza
September 27, 2022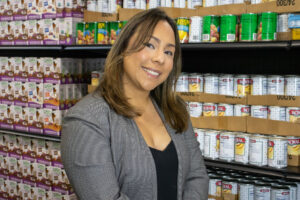 Joining our team as one of our new Bilingual Community Impact Coordinators is Jessie Pedraza! Jessie has a background as a Spanish Interpreter in the medical field. She will be working with our new Text 4 Food program and with "Project Support" which works with our neighbors to set goals and connect them with the support services they need to achieve those goals.  Strengths Jessie brings to the team are being dependable, patient, and kind.
She is most excited about getting to know our neighbors, and helping in any way she can to make their day!
When asked about what she joys most about the Aurora community, "Aurora was named the "City of Lights" because it was one of the first in the nation to illuminate its streets with electric lights," said Jessie. "I love how the community comes together not only to cheer for one another but also to support one another."
Welcome to the team Jessie, we are excited to get to work with you!